How many of you knew that PAC produces a line of security bags called Securejackets? Probably not many of you… and by no fault of your own. While exhibiting recently at a vendor show in Dallas, I soon realized what a poor job we were doing at getting the word out about this unique product. So in the Texas Spirit – let's fill y'all in!
Security Bags 101
Our Securejackets offer a full range of custom, tamper-evident plastic security and banking bags that are easy to use and exceptionally manufactured. They are constructed from durable clear or opaque co-extruded (3-layer structure) polyethylene film and available in a variety of sizes and styles.  Better yet, like all of our poly products, the Securejacket is 100% recyclable!
Our Security Products Program is dedicated to providing quality, cost-effective security bags to a variety of industries including financial institutions, armored car carriers,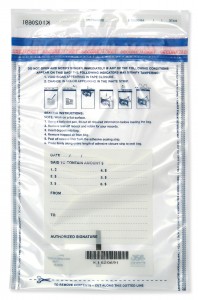 check processors, gaming and national retail store chains. They are the most effective way to safeguard your cash, receipts, checks, coins and valuable documents during shipping and depositing.
Security Bag Features
Securejackets are unique in that they typically include several features. They are not as straightforward as say your standard Polyjacket (flat poly mailer). Below is a list of the features that may be included in your custom deposit bag:
Opening system: Perforated, tear-off receipt
Closure system: Permanent, tamper-evident VOID adhesive closure is easy to use and has a reliable in-line closure system. We can incorporate heat, cold and moisture-based tampering indicators.   
Side seal construction: Pouch seal and side-weld seal construction. Both types are very reliable and durable, which guard against tampering. The quality and reliability of our side seal construction prevents pilferage of your valuable contents.
Write-on Surfaces: Write-on white inks enable you to write essential information directly on the bag.
Bag Construction Styles: Single or dual compartment bag construction styles are available. Single compartment bags are designed to contain and secure cash and/or check deposits. Dual compartment bags are designed with one pouch for cash and an additional convenient pouch for check and related processing documentation.
Numbering & Bar Code: Dual unique alphanumeric or numeric bar codes and sequential numbering with corresponding tear-off receipt on closure flap.
3 Tiers of Security Bags
It would be silly to only offer a bag with every possible bell and whistle and charge a premium price. Instead, our security deposit bags are completely customizable with your needs in mind and include only the features you want. Therefore, we offer 3 different levels of security so that customers can match the correct security level to the anticipated risk potential of loss.
Bronze: An economical line of durable products with moderately tamper-evident, fold-over closures that detect ambient temperature tampering.
Silver: A mid-level line of durable products with in-line closures that include the features of Bronze plus systems that visually show freeze-based tampering attempts.
Gold:  Our highest level live of durable products that include all of the features of Silver plus the addition of systems that visually show heat and moisture-based tampering attempts.

Who knew bags could be so fancy, right!?! I certainly didn't, but these technologically advanced security bags have many applications from retail companies and restaurants protecting their daily cash and check deposits to armored car carriers responsible for keeping those deposits secure. Now the next time you have a need for any type of security deposit bag, give us a call at 1-800-535-0039 and we'll customize a bag just for you!