Comparing the Cost Implications of using Poly Bubble Mailers vs. Corrugated Boxes
I am excited to announce that we have a new addition to the Useful Tools section of our site – the new "Mailer vs. Box" Super Calculator! If you've been keeping up with DIM weights, then you've likely seen the useful DIM Weight calculators out there to help you determine the cost of your shipment. Our Mailer vs. Box tool takes it one step further and looks not only at the difference in shipping costs, but also the freight and space savings, and associated environmental impact. Wouldn't you want to see if you're using the most efficient packaging, or if you're leaving money on the table…??
How it Works
You first enter the dimensions of the actual product you'll be shipping (not the box size). You'll also enter your average number of units shipped per month and the carrier you are using (UPS or FedEx).
Once you hit "Go!" the super calculator will select which stock sized mailer and stock sized box would be most appropriate to package your product.
As seen below, you'll have a side-by-side comparison of the packaging dimensions, the associated DIM Weight, and Cost per Package to ship. Just below that you'll be able to easily see your Savings per Package, Savings per Month, and Savings per Year. Wow, that really adds up!!

Continue scrolling and next you'll see a comparison of the number of truckloads required to ship equal amounts of the selected sized poly bubble mailers versus corrugated boxes. Being in the industry, this statistic in particular still surprised me. Remember that the cost of shipping your product from your warehouse to the end user is not the only shipping you must take into account. The freight it takes to get the packaging from your vendor to your warehouse can severely cut into your profit margin!
Next is the calculation of space required to store your pallets of poly bubble mailers versus corrugated boxes. This too highlights just how much bulkier boxes are compared to bags.
Before I move on to the Environmental Impact, I want you to feel absolutely confident that we are providing accurate and honest information. We know that not all products can be sufficiently packaged in a mailer, and we discuss the best times to use a box in my previous post, Confused about What Packaging is Best to Ship your Product in? 
When using our DIM weight tool, you will not always see a lower DIM weight for mailers when you enter your product dimensions. For example, a product sized 6" x 4" x 2" is packaged best in our Airjacket #0, which measures 5.25" x 9.25" or an 8" x 6" x 4" standard sized box. These dimensions both total DIM weights of 1 lb. As you'll see below, there is no realized savings when shipped to the end user. However, remember the transporting and storing benefits of lighter, slimmer poly mailers versus cardboard boxes. Not to mention the Environmental Impact discussed below.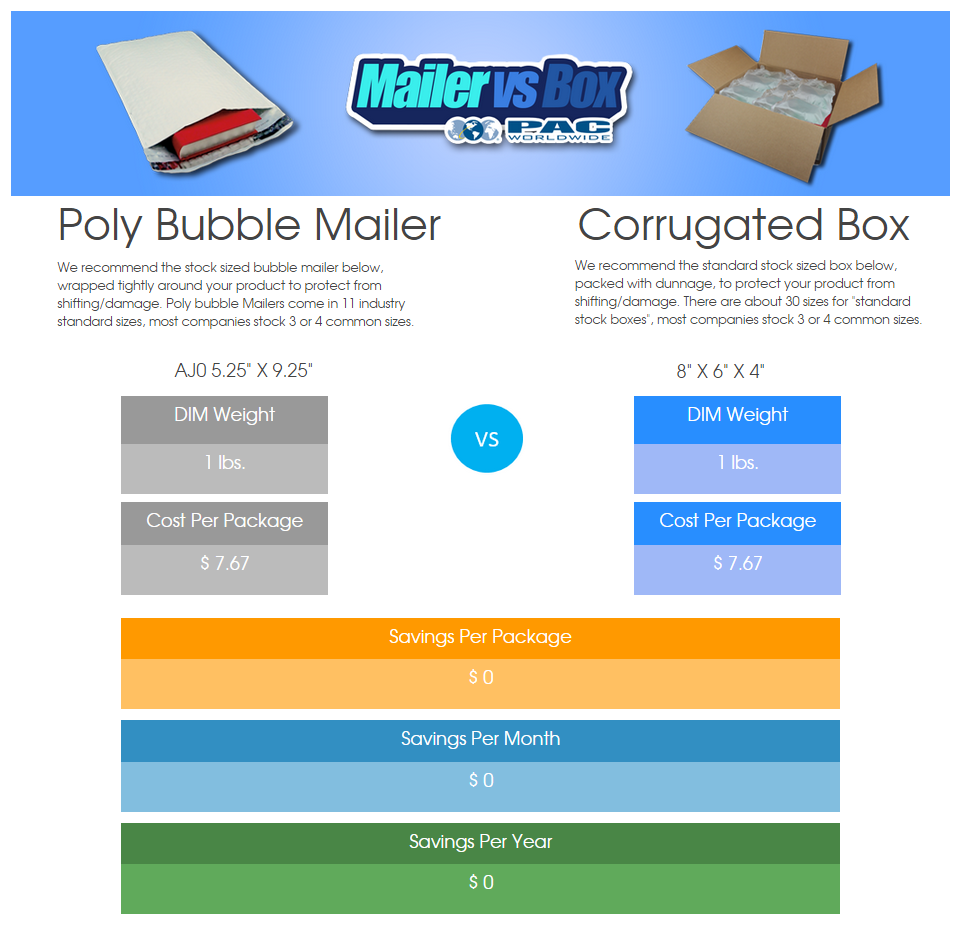 We here at PAC Worldwide pride ourselves on being acutely aware of the environmental impact of both our actions and our products. All of our poly mailers are 100% recyclable, and we are continually looking at ways to further our green packaging offerings, such as our Recycled Polyjacket. Poly mailers are not only friendlier to the environment at the end of their useful life, they require fewer resources from the very beginning. Our Mailer vs. Bag Application reviews the amount of oil, wood, and energy used as well as the greenhouse gases and wastewater produced to manufacture equal numbers of poly bubble mailers and corrugated boxes. I urge you not to skip this portion of the results as many of us are unaware of just how many natural resources are drained to manufacture such common items like boxes. I know I certainly didn't before I started working in manufacturing… If this is all new to you, please take just a couple minutes to check out my Sustainability: Bag vs. Box Video and let me know your thoughts!
Now the next time you go to ship something in a box, pull up the Mailer vs. Box app here: https://www.pac.com/MailerVsBox/ and save you and your company some money!! If you'd like to discuss your packaging options further, simply send us an email [email protected] or give us a call 1.800.535.0039. Thanks for reading! 🙂