The COVID-19 pandemic has created unique challenges for the ecommerce industry. Fortunately, technology can help solve them. Whether it be an assembly line or several closely spaced workstations, product fulfillment work and social distancing don't easily go hand in hand. One of the best investments an ecommerce business can make right now is in automated packaging machines. These machines help solve social distancing problems by reducing human contact and keeping fulfillment speeds steady, even during times that require social distancing.  
One of the biggest benefits of using automated packaging machines is increased efficiency. The machines can increase fulfillment speeds approximately 400-500% over human workers, and each machine requires only a single operator. Reduced reliance on human labor helps keep fulfillment consistent during times of quarantine. It also reduces costs associated with hiring and training employees.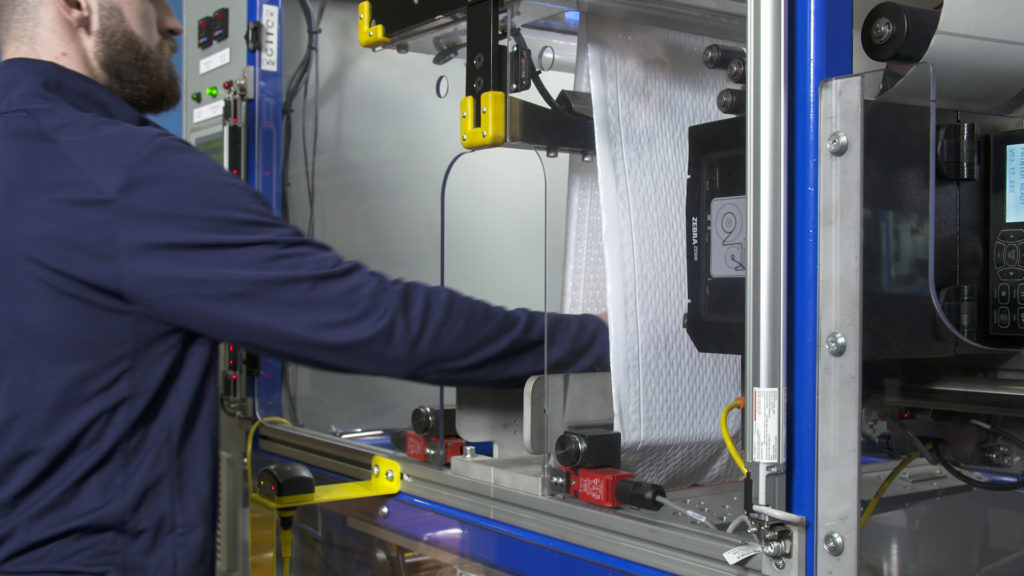 Automated packaging machines help sustain a low-touch warehouse environment that reduces human interaction. By utilizing a single roll of material to make multiple sizes of packaging, operators will not have to travel around the warehouse to source different sized materials from shared supplies.  
Along with faster fulfillment speed comes the efficiency of space. When a machine can do the work of five to seven individuals, packaging stations can be spread further apart to allow for social distancing. Three rolls of plastic film can be placed on a single pallet to save warehouse space and maximize the area for social distancing. The machine can be loaded and operated by a single person who rarely needs to leave the station.  
Not only does automated packaging make sense for social distancing, but it can also save an ecommerce business time and money in the long run. Smart automated packaging machines use a fiber-optic eye to determine the size and shape of an item and create a perfectly sized package to fit. This reduces the amount of material used and optimizes the size of the package resulting in the lowest possible DIM weight shipping fees.  
During quarantine ecommerce businesses have an opportunity to boost production and order fulfillment, but only if they have the right tools. At PAC we are dedicated to helping ecommerce businesses thrive, even in challenging times. For more information on automated packaging machines visit our website: https://www.pac.com/product/pacjacket/.