With summer in full swing, many companies are exploring new ways to prevent temperature intrusion and keep products fresh throughout shipment. From the warehouse to the customer's doorstep, there are many places along the way where heat intrusion can happen. Thankfully, technology and the innovation of new materials have made cold chain shipping easier and more cost-effective than ever.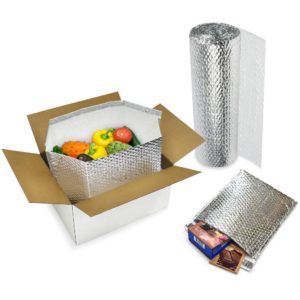 Here is a simple guide to the best thermal insulation products for different types of shipments:
1. Small to medium-sized products or meal kits that are shipped as a package
Best Choice: Thermal box liners and frozen gel packs
No need to mess with bulky coolers and environmentally damaging polystyrene. These liners are sleek and minimalist in material usage and can be recycled through specialty recycling programs. When combined with frozen gel packs, box liners provide a simple solution to keeping products cool throughout shipment.
2. Small products that fit in a standard mailbox
Best Choice: Insulated mailers
A mailer constructed from thermally protective material is the perfect option for protecting small items such as pharmaceutical bottles and cosmetics. Mailers are easy to use and can be combined with frozen gel packs. Insulated mailers also come in expandable versions for bulkier products, such as gourmet chocolates.
3. Oversized or odd-size products
Best Choice: Roll stock
The same material used in box liners and mailers can be purchased as roll stock, which is the perfect solution for wrapping large boxes or odd-size shipments. Simply roll out the amount needed and wrap it away.
PAC's thermally insulating, protective material, CoolPAC®, is available as a box liner, protective mailer, and roll stock. When combined with frozen gel packs, this solution provides better thermal protection than EPS foam and a lower environmental impact. CoolPAC® is an FDA-approved thermal insulating product that is constructed from a reflective film and bubble layers to provide ultimate physical and thermal protection. Learn more at: https://www.pac.com/cold-chain-packaging/