Business leaders cite sustainability as a priority in 2023; this simple swap can give retailers an edge.
As the calendar turns to a new year, business leaders are turning more attention to prioritizing sustainability. Gartner reports a 292% increase in mentions of "environmental sustainability" as a top business priority for 2022-2023 in its recent survey of 400 C-suite employees.
Calling it a radical shifting of priorities, Gartner reports that, "Business leaders are now under pressure from customers, investors, regulators and employees to do more on environmental sustainability, and sustainable business is seen as an opportunity to drive business efficiency and revenue growth."
How can retailers improve sustainability in 2023?
There are many places where retailers can look to improve their sustainability practices. From examining material sources to adjusting internal operations and making changes to shipping and fulfillment, nearly every part of every business has some room for improvement. But focusing on everything at once is often too tall a task and it becomes more difficult to move the needle.
A better tactic is to focus on the simplest changes that will have the biggest impact on sustainability in retail. The Environmental Protection Agency estimates that packaging waste makes up around 30% of total U.S. waste annually. Online retailers can directly influence the amount of waste that ends up in landfills simply by using packaging that is easier for consumers to recycle. With this simple packaging swap, retailers may significantly reduce their global footprint.
"The Environmental Protection Agency estimates that packaging waste makes up around

30% of total U.S. waste annually

."
How to make packaging easier for consumers to recycle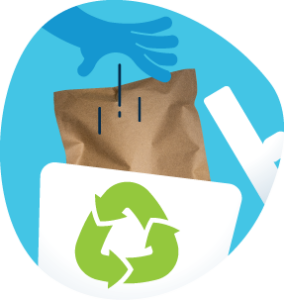 Many types of packaging are recyclable, but not many types are easy to recycle. The trick to keep the packaging out of landfills is to make recycling a simple process for the consumer. Start by choosing an eco-friendly line of packaging that is recyclable in the curbside bin. Ecojacket offers two all-paper mailer options that can easily be swapped in place of traditional poly and bubble mailers, which are not curbside recyclable.
If a product isn't well-suited for an all-paper mailer, it's a retailer's environmental responsibility to ensure its consumers know how to recycle the packaging properly. By joining forces with How2Recycle, retailers can print recycling instructions directly on the package, and give their customers the information they need to ensure that packaging doesn't end up in landfills.
An eco-friendly packaging company you can trust
PAC is committed to leading the industry in the development of eco-friendly packaging that helps businesses achieve their sustainability goals. We developed Ecojacket to offer the retail industry a sustainable packaging option that can be recycled in the curbside bin.
In addition to new product development, PAC consistently evaluates our internal procedures and processes so we can work toward our sustainability goals in partnership with other environmentally conscious organizations. Read about our commitment to reducing packaging waste in our Sustainability Report.
To learn more about curbside recyclable mailers or to order Ecojacket products, visit us here.