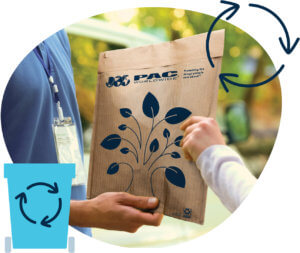 A 2021 survey of more than 15,000 consumers revealed that 67 percent find it important that their products come in recyclable packaging. The survey also reported that consumer perceptions of what is recyclable don't always match reality. If your business prioritizes consumer-friendly recyclable packaging, you can make a lasting impression on consumers by choosing packaging that consumers perceive to be the easiest to recycle and custom printing it to match your brand.  
Even though poly mailers are more environmentally friendly than cardboard boxes, fifty-five percent of consumers say they associate plastic with "harmful," whether or not it is recyclable. Yet, despite a preference for paper, consumers have grown very wary of bulky cardboard boxes that fill garages and bins to the rim. Ecommerce retailers need a sleek, lightweight, curbside recyclable mailer that speaks their brand values loud and clear. We've answered the call with Ecojacket.  

The most eco-friendly brandable packaging.
Ecojacket is a curbside recyclable, paper-based mailer with a much smaller carbon footprint than a cardboard box and is far less bulky for consumers to dispose of responsibly. Ecojacket is made from natural kraft paper bonded to fluted interior paper for protective cushioning. It performs as well as a poly bubble mailer but offers the added benefit of being easier to recycle for the consumer.  
When you deliver a product in an eco-friendly package that makes your customer happy, you better take some credit for it! Sustainable packaging is an important brand differentiator that consumers care about. You need to put your brand directly on the package, so your consumers remember your company and its commitment to sustainability in packaging.  
Custom branded eco-friendly packaging.
It's no secret that branded packaging increases brand recognition, which increases revenue. If you choose custom branded packaging that is curbside recyclable and eco-friendly you should shout it from the rooftops by printing your logo directly on the package.  
Ecojacket comes in popular e-commerce mailer sizes with generous space for custom color printing and low minimum order quantities. We can help you brand your eco-friendly mailer. 
At PAC, we offer a variety of resources to help you get the most out of your Ecojacket mailer. If you'd like to DIY your custom package, we have a tool for that. If you need more help figuring out the best way to customize your eco-friendly mailers, reach out to us for design assistance. We have a team of packaging professionals waiting for your email right now. Learn more about Ecojacket and PACs sustainability pledge.