Pouchjacket
STAND UP POUCHES
Want your product to stand out on shelves? Pouchjacket® pouches are the answer. These cost-effective, FDA compliant plastic pouches are printed with impressive 10-color, high-resolution graphics to enhance product value and consumer appeal. Made with laminated barrier film structures that protect the contents and allow for a long shelf-life, they are available in a variety of styles and custom sizes and can be printed with matte and metallic ink colors. Pouchjacket packaging is ideal for food items, pet treats, coffee, tea, pharmaceuticals, cosmetics, agrochemicals, grass and bird seeds, and many other applications.

Film colors: Clear, Opaque, or Metalized (Mylar or Aluminum) films
Thickness range: 3 – 7 mils
Lamination layers: 1 – 5 substrates
Substrate options include: OPP (matte or glossy), PET, Metalized (Mylar or Aluminum), Nylon, Polyethylene (LLDPE, LDPE, PE, HDPE), and specialty films or coatings.
Want something more eco-friendly? Pouches are already an environmentally-friendly choice compared to jars or boxes. Ask our experts how to reduce your packaging landfill waste, or how to make your pouch recyclable or compostable today!
The packaging pouch has skyrocketed in popularity over the past decade. Everything from food to seeds and makeup to motor oil can be found in a pouch these days. Pouches provide additional protection beyond what a mailer can offer and valuable advertising space. Watch our latest video series to learn more!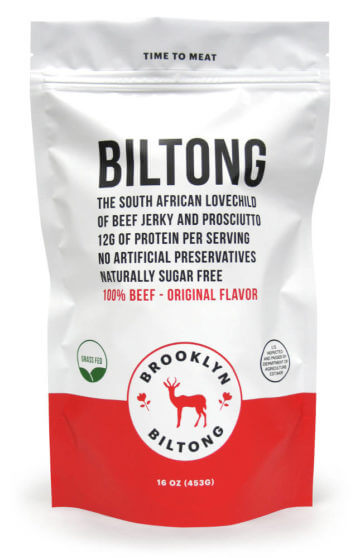 Pouchjacket pouches offer a variety of convenient packaging features such as tear notches, die-cut handles and hang holes. They are available with resealable zipper, slider closures, velcro closures, tin-tie closures, or add de-gassing or coffee valves. Spouts and other fitments offer spill control and tamper evidence.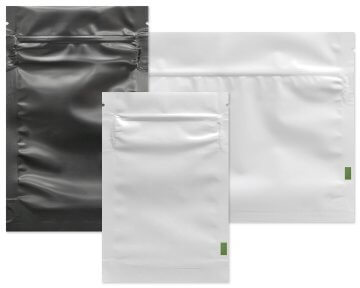 Made from FDA compliant food-grade materials, BPA free, ISO, HAACP and BRC certified and 3rd party quality tested for food contact materials. Special barrier films protect the product from spoilage. Our Quality Management System and Traceability Programs include quality lab testing, shipment inspections, quality claims, and technical data reporting on every order.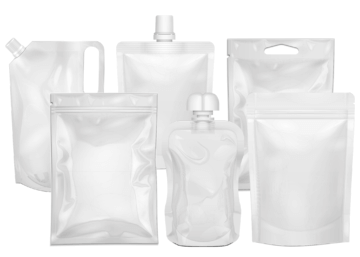 Available in stand-up, flat, retort, spouted, microwaveable, quad-seal, roll stock, custom shaped, even add windows in any shape or location, there is a Pouchjacket for nearly every application. 
PAC works with you to scale-up for new product launches or market testing and contract manufacturing innovations. This includes stages from digital mock-ups, prototypes, samples or sales mockups, and short runs.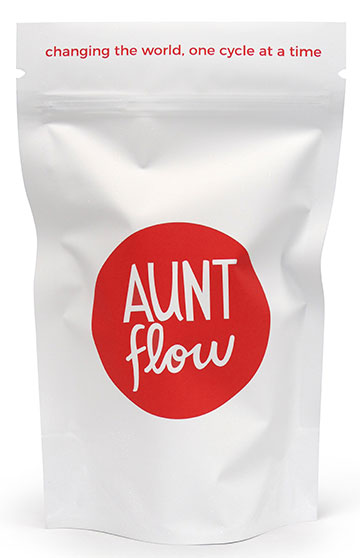 High impact, high-resolution graphics, and creative shapes and constructions add product value, which helps differentiate your brand from the competition. Available in matte or gloss finishes in matte or metallic ink. 10-color printing with flexographic or rotogravure.
Newly added digital printing with high-resolution and Pantone color matching available for a quick turnaround (3 week average lead time) and unlimited graphic revisions or SKU's, no plates or cylinders needed!
Pouchjacket pouches eliminate the need for cans, bottles, jugs and bulky containers. Pouches often hold more product with less packaging material and take less landfill space than rigid containers. Recyclable and compostable pouches also available.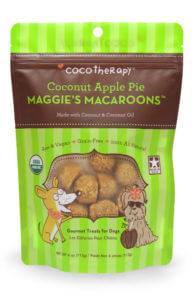 A bottom gusset and rigid front and back edges allow this package to stand up and be displayed on store shelves. With impressive, high resolution graphics, our stand up pouches are a cost-effective flexible package alternative to rigid bottles, cartons, cans and jars.
Stand-up pouches are ideal for many applications, including:
Food
Pet food & treats
Pet healthcare products
Bird seed
Bakery
Candy & confectionery
Cereal & breakfast foods
Cookies & crackers
Dried fruit & nuts
Dry goods
Fresh produce
Frozen foods
Processed meats & poultry
Rice
Salt
Seafood
Snacks
Sugar
Tobacco
Whey protein powder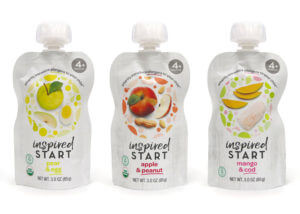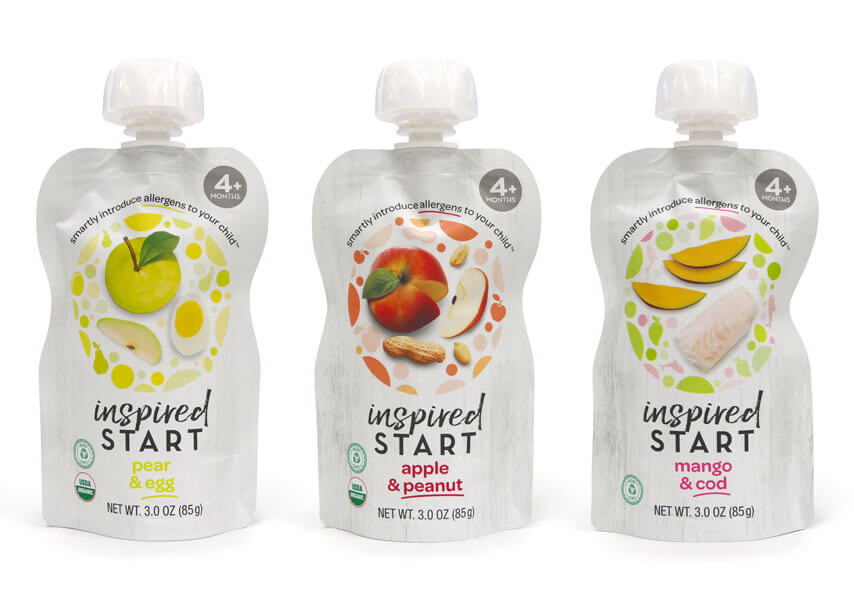 Retort pouches are used for pre-cooked processed food applications that involve high temperature sterilization and require a long shelf-life at room temperature. Retort pouches are the perfect alternative to cans or jars for canned foods to offer more convenience features for consumers, cost savings in packaging, and stand out on the shelf. Also available in spouted or with microwavable features.
Retort pouches are ideal for:
Vegetables
Fruits
Purees
Soup
Sauces
Meat products
Pet Food
Long shelf-life applications
Food-service applications
Flat Three-side Seal Pouches: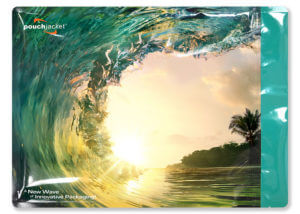 Three-side seal or center-seal pillow style pouches are produced with the opening at the top or bottom. A tear notch is often incorporated into this type of pouch to allow for an easy opening.
Three-side seal pouches are ideal for:
Food
Pet food & treats
Pet healthcare products
Candy & confectionery
Breakfast foods
Dried fruit & nuts
Dry goods
Frozen foods
Processed meats & poultry
Seafood
Snacks
Spices
Custom Microwaveable Pouches: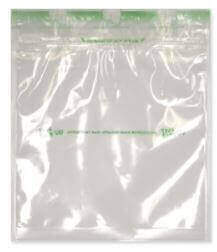 Microwavable pouches are heat resistant laminations offering consumer convenience to heat in the microwave. Also available: steam technology, self-venting, boiling bags, and spouted. "Cool touch" seals available for consumer safe removal from the microwave. BPA Free.
Microwavable pouches are ideal for:
Food
Soup
Sauces
Meat products
Seafood
Rice
Vegetables
Frozen food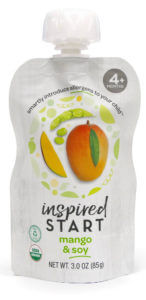 Spouted pouches provide extra convenience, spill control and food safety for many applications (i.e. liquid, semi-liquid, granular and powder products). Spouted pouches are safe, easy to use and lightweight. Available in many shapes and sizes with various features. These include choke-free caps, tamper evident closures, and narrow to wide mouth spouts. From small single-serve with top centered spouts to large refills with corner spouts. Also available in retort or microwavable.
Spouted pouches are ideal for:
Fruit & vegetable juice
Baby food
Salt
Soup
Sauces
Syrup
Wine & alcohol
Liquid soap & detergent
Lawn & garden products
Granular products
Custom Die-cut Shaped Pouches: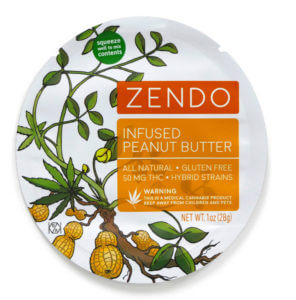 In addition to impressive printed graphics, you can add a creative element to your flexible packaging branding strategy with fun, functional and eye-catching shaped pouches.
Shaped Pouches are ideal for:
Liquids
Food
Bakery
Candy & confectionery
Cereal & breakfast foods
Cookies & crackers
Dried fruit & nuts
Frozen foods
Rice
Snacks
Sugar
Dry goods
Pet food & treats
Pet healthcare products
Custom Quad Seal Pouches: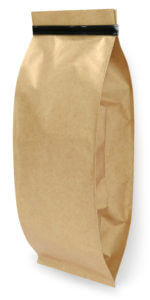 Our quad seal pouches are produced with side gussets for expanded capacity and optional bottom gussets for balanced box-like presentation. This quad seal pouch provides an ideal advertising billboard for your product in any shelf position.
Quad seal pouches are ideal for:
Coffee
Tea
Snacks
Frozen Foods
Pet food
Cat litter
Lawn & garden products
Bulky products
Custom Printed Rollstock Film:
Custom rollstock is for customers with vertical and horizontal form-fill-seal (VFFS and HFFS) packaging machines.We offer up to nine gloss, matte and metallic ink colors printed on state-of-the art rotogravure and offset printing presses that will deliver even the most complex and demanding graphic designs. We offer multiple layers of lamination or coextruded films for product and machine specific requirements, to make many types of bags, pouches, flow wraps, and sachets. Custom film trials and technical support available.
Custom Printed Rollstock film great for:
Food
Pet food & treats
Pet healthcare products
Bakery
Candy & confectionery
Cereal & breakfast foods
Cookies & crackers
Dried fruit & nuts
Dry goods
Frozen foods
Processed meats & poultry
Seafood
Snacks
Premium Laminated Mailers: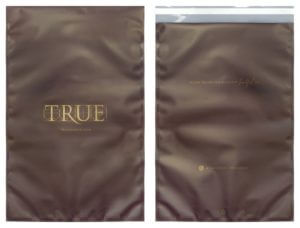 Advantages in laminated films for better aesthetics, feel, and overall consumer experience when they receive it in the mail. Features can include a premium matte film, glossy surface, a combination of matte & glossy, metallic inks, zipper closures, peel & seal, dual peel & seal with perforations, die cut handles, and full 10 color reverse printed graphics that won't scratch or fade in transit.
Premium Laminated Mailers are great for shipping product to your customer
Cushioned, Scent-Blocking Mailers: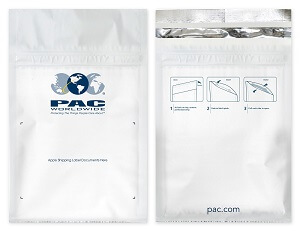 Protectjacket protects contents from the elements in shipping & handling because it is cushioned, completely sealed, and blocks odor, light, and moisture. The package protects children and parents from unintended access with it's child-deterrent design and reclosable zipper, yet discreet for couriers. It is ideal for high-value contents shipped in a mailer requiring that extra protection inside and outside.