By John Bartell
My latest blog is about the rise of ecommerce home meal delivery subscription services and how more and more of these companies are needing to find the right cold chain packaging solution to ensure their perishable products get to the consumer fresh and protected.  Writing blogs is interesting. Sometimes it just flows right off your fingertips and other times "writers block" appears.  This was one of those times that "writers block" reared its ugly head.
Usually, a little exercise will clear my head and get things back on track.  So, I decided to take my son to the park for a walk.  He was happy to go, but based on one caveat, he wanted to play Pokemon  GO in the park.  Yes, that Pokemon Go, the one that has broken all records as the most downloaded app ever, the one that has turned 20 and 30 somethings into zombies roaming the streets.  Not a problem I say. So we downloaded the app and were off to the park.  Yes, I know I am way behind the curve as this APP has been out for a month. Anyway, it was kind of cool as we were walking and he is capturing things left and right and finding Poke Gyms and Poke Stops.
The walk was working for me as well, really clearing the head and getting the creativity flowing. Then it happened, we found the Zombies.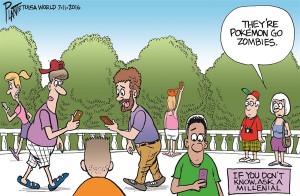 Imagine a beautiful park right on the Puget Sound that is usually full of joggers, runners, skateboarders, baby strollers etc.  Those people were nowhere to be found.  In their place were hundreds of people of all ages, shapes and sizes with their heads down staring at their phones. Yes they were still on their skateboards, bikes, walking dogs, strolling kids, sitting on benches and logs but they were all connected and speaking a popular, but secret language, that unless you have downloaded the APP is very foreign. We would pass by people and they would lift their head for a second and nod, not to me but to my 10 year old son as he was the one playing, and was in the "secret club".  It was one of the weirdest things I have ever encountered and I was shaking my head in disbelief all the way home even as my son was telling me he had just gotten to level 5 and could not wait to play Pokemon Go again.
Was it the fresh air, or the Pokemon Go?  Not sure, but whatever it was, it cleared up the writer's block and here I am , back to the blog at hand: Ecommerce Home Meal Delivery Services/Subscription services and the need for the right cold chain packaging.  There are so many variables when looking at temperature controlled packaging:
What is the best packaging for your product?
How many ounces of gel/coolant will you need?
Do I need to ship overnight or will my product stay at the right temperature for two days?
How much room will this packaging take up in my distribution center?
How easy is the packaging to use?
How can I increase my fulfillment speed?
When is it best to use a thermal or insulated mailer versus an insulated box?
How can I best counter DIM weights and save on shipping?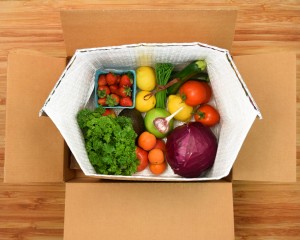 These are just some of the questions that face many ecomm retailers today, especially those in home meal delivery service, but also many other companies that are shipping perishable parcels.  And there are a lot out there, and more coming, The Boston Consulting Group predicts that global online grocery shopping is expected to be a $100 billion business by 2018.
Whether you are shipping chocolate, cheese, meat, flowers, pharma or bio just remember the dog days of summer are upon us.  And while the Zombies are having fun engrossed in the world of Pokemon Go, you have product to protect and to get to your consumers.  It might be time to talk with someone who can help guide you through all these difficult questions and scenarios.  And who knows, maybe by working with a PAC Worldwide Cold Chain Packaging specialist, you may free up some time and join that "secret club" and get to level 5 or beyond like my son
Happy Dog Days of Summer to you!