The traditional paperboard mailer is still a popular shipping solution. Here's why.   
1. Even with all the various types of shipping materials available to choose from today, it may be the case that the tried-and-true paperboard mailer is still the very best choice for your product. The Mailjacket paperboard mailer provides a simple, no-fuss solution for products that benefit from a little extra support. Why choose a Mailjacket? Here are the top four reasons customers continue to turn to Mailjackets for their shipping needs.  
 
2. Made from recycled materials. Mailjackets are composed of high-quality, hand-sorted recycled paper products, making them one of the most sustainable mailer options available.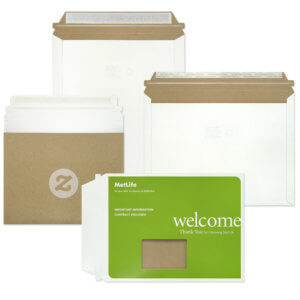 3. Easy to recycle after use. While some types of mailers must be dropped off at a special recycling pickup location, Mailjackets can almost always be placed directly into the curbside bin. This makes it more convenient for consumers to do the right thing when disposing of their shipping waste.  
  
4. Superior fold protection. Because Mailjackets are constructed from rigid paperboard, they provide extra protection against bending and folding. This makes them perfect for flexible items like photographs and documents.  
  
5. Easily customizable. From simple bright white to complex graphics with eye-catching colors and logos, Mailjackets look great plain or printed in full color. PAC makes it easier than ever to create an impressive custom mailer with our Build-a-Mailer tool.  
 
If you are looking for a simple, sustainable mailer that can be customized to the look and size of your product, the Mailjacket may be the right choice for you. To learn more about what size mailer you need for your item read here or reach out to a PAC packaging specialist to see if Mailjackets could be a simple answer to your packaging problems.