Flexible Packaging Leader Expands Presence in Queretaro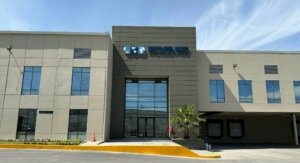 (SEATTLE, WA) – Seeking to scale its Central America manufacturing capabilities, PAC Worldwide has moved operations formerly housed in its Pedro Escobedo, Mexico location into a new 83,000 square-foot plant in San Juan Vistha.  The full-service flexible packaging facility is located two hours north of Mexico City.
The global company will manufacture a variety of poly products and solutions from the factory, including its popular Polyjacket® mailers, as well as pouches, roll film, and security bags. PAC's paper products plant will remain in nearby San Juan Valle.
PAC Worldwide opened its first Mexican plant in the Queretaro area 26 years ago, selling to brands throughout North America as well as Mexico. The factory has served customers across a range of industries, including banking and financial services, couriers, e-commerce, as well as leaders in the food and snacks industry.
To mark the opening, PAC's executive management team and more than 100 local staff members gathered for a grand opening celebration.  The company expects to expand the workforce by 15% or more during the busy holiday mailing season.
PAC Worldwide President Thomas Parenteau praised management and staff for the ease and effectiveness in making the transition to the new, larger factory.
"This was a significant undertaking, involving a lot of detailed planning and coordination," said Mr. Parenteau.  Our team did an excellent job of integrating systems, machinery, and workforce. The result of their efforts is a best-in-class operation that expands manufacturing capacity and increases our operating efficiencies."
The move expands PAC's fiber and polymer manufacturing capabilities, particularly in food-grade packaging. When operating at full capacity, the Querétaro plant will produce more than 700,000 bags daily.
About PAC Worldwide
Founded in 1975, PAC Worldwide Corporation has been a leader and innovator in developing and manufacturing customized packaging and contract packaging solutions for more than 40 years. The privately-owned company employs more than 1,300 team members through operations in the U.S., Mexico and Malaysia.