You ship several items of varying shapes and sizes.
You know boxes are bulky and dimensional (DIM) weight costs are rising.
You've done your research and have decided using bubble mailers, rather than slim poly mailers, will provide the extra padding and protection you're seeking to ship your product.  Now to decide between poly bubble mailers and Kraft bubble mailers – which one do you choose??
Not to worry, you're definitely not the only one wondering…  When asked this question recently, I realized I could use a deeper understanding of the differences between these two products myself.  So, I created a handy dandy reference table that I've made available to you at the end of this post, and will walk you through each feature.  By the end, you'll feel 100% confident that you know which bubble mailer to choose for your shipping needs!!
So, the question is – what are you shipping and which features are most important to you?
Color & Printing
Are you looking for the unique, "natural" look of Kraft paper bubble mailers or are you after the clean, crisp lines found on poly printed mailers?  Keep in mind, the bright white poly creates an ideal surface for printing your custom design.  You can print up to 6 colors on 2 sides and your colors will come out true and vibrant, while the golden yellow Kraft paper produces slightly muted colors.  The printed colors will not be true PMS tones due to the golden Kraft color underneath.  This can be mitigated, to a degree, by choosing the white Kraft paper when doing a custom printed design.
Recyclability
Is recyclability a concern?  While Kraft paper may look more "natural", poly is actually what creates recyclable bubble mailers, not Kraft.  You must separate plastic and paper when recycling and the bubble is formed from plastic; therefore, the Kraft would need to be separated from the bubble before recycling.
Closure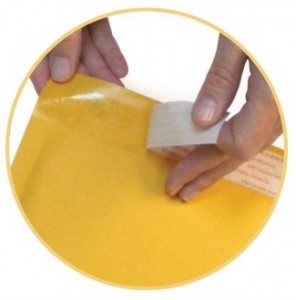 Both are great examples of tamper evident seal mailers.  Tamper evidence is always important when shipping.  The next consideration is how many of these mailers will you be using in a day? A week?  The poly bubble mailer has an anti-stat release liner that when peeled off simply falls to the ground, rather than clinging to the packer, allowing for speedy fulfillment.
Moisture
Will the items you're shipping be ruined by contact with moisture?  The poly is moisture resistant while the Kraft paper is not, simply due to the properties of paper.
Weight vs. Rigidity
How much protection do your contents need from their padded packaging?  While the poly bubble is lighter weight and can save you on postage, our Kraft bubble has what's called a high-profile bubble.  It features a taller bubble height (3/16") offering more rigidity, and thus provides slightly more protection than the poly bubble (7/64").
Freight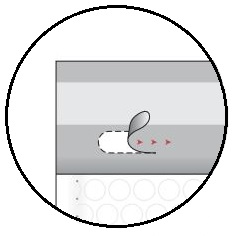 Where will you need these bubble mailers shipped to?  The high profile bubble which provides added protection also results in higher freight costs.  Twice as many poly bubble mailers can fit on a pallet as Kraft bubble mailers.  That means the cost of one truckload would be amortized over half as many Kraft bubble mailers.
Opening Feature
Want to ensure your customers who have been eagerly awaiting the arrival of their purchase can easily get to the contents of their mailer?  We've specifically designed our patented PACzip to do just that – create easy open bubble mailers!  Our unique PACzip tear strip provides for quick and easy opening while not compromising the security of the contents during transit.  Due to the properties of paper, this feature is only available on the poly bubble mailers.
Need More Room?
Need to ship something large or bulky that wouldn't typically fit in a padded mailer?  With our poly bubble mailers you have the option of adding a gusset, increasing the usable space inside for larger, bulkier items.  Give our expandable bubble mailers a try for yourself!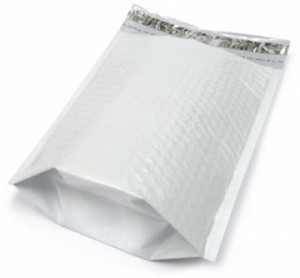 These are helping customers save on shipping costs by transferring their items that would typically go into cardboard boxes into padded mailers and reducing their DIM weights.
Now that you know whether the poly bubble mailer or the Kraft bubble mailer is best for your product, go check out sizes on www.pac.com and contact us for pricing!
[table id=1 /]
I hope you found this post useful and that you'll reference my handy table above the next time you're deciding between poly bubble mailers and Kraft bubble mailers.