Home
OUR STORY
PAC Worldwide manufactures protective mailers and speciality packaging for the courier, e-commerce, fulfillment and distribution markets. We offer a full portoflio of branded and stock packaging with bubble lined and flat solutions.

Build-A-Mailer
See what YOUR branding would look like on a PAC Worldwide mailer in 3 easy steps.
Step 1: Choose product · Step 2: Customize · Step 3: Send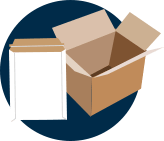 Mailer Vs. Box
Not sure whether to use a mailer or a box? Use this tool to help you decide.
Product dimensions · Quantity · Shipping method
40 years of experience goes into every PAC mailer, so you will never have to worry about what you pack in them.
Products
Whether you're looking to give your product extra protection during shipment, increase your brand recognition, decrease packaging waste, decrease labor costs, increase fulfillment speed or just want to partner with an outstanding packaging manufacturer, we've got you covered!